Manicures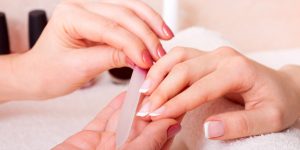 Signature Manicure $35
All the benefits of a manicure, plus an exfoliating hand and arm massage using a Lavender scrub to remove dry and dead skin, revealing new, smooth skin. After removing with hot towels you will receive a thorough arm and hand massage using a hydrating essential oil infused lotion. Finished to perfection with a polish color of your choice.
Gel Polish Application $25
This durable, long lasting polish will hold up for two weeks without chipping, and best of all no need for drying time! A variety of colors are available including color changing polishes.
Complete Mani With Gel Polish $45
This service is our full Signature Manicure with a gel polish application.
Pedicures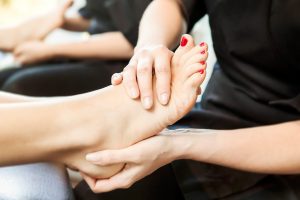 Signature Pedicure $35
This pedicure starts with an aromatic soak to relax sore feet, followed by cleansing and shaping of the nails, and cuticle cleanup. A Lavender salt scrub will be worked into the legs and feet to exfoliate dead and dry skin. Rough dry heels will be sloughed away with a sanitary pedi file and then coated with a hydrating mouse. Receive a thorough foot massage using a calming blend of essential oils, hot towels will be used to help penetrate the product into the skin. Finished off with a cooling peppermint gel on the legs and feet. Top it all off with a polish color of your choice.
Luxury Hot Stone & Paraffin Pedicure $45
All of the wonderful benefits of our Signature pedicure, plus a luxurious extended hot stone massage. This is perfect for easing muscle tension and improving circulation. The warmth of the stones allows the massage oils to penetrate the skin, leaving you with intensely hydrated skin. A lavender mud masque will be brushed onto the legs and wrapped in warm towels. Warm eucalyptus paraffin will be applied to the feet which will soothe stiff aching muscles, while adding moisture to dry cuticles and heels.
Add Ons:
French Polish $5
Nail Art $2 Per Nail
Hot Paraffin $10